Discover more from Sticky Bits by Lauren Yoshiko
News and Analysis for Creative Cannabis Entrepreneurs
Over 6,000 subscribers
COVID-19 + Cannabis
Unexpected industry side effects.
More Money, Slightly Less Problems? How COVID-19 Is Affecting The Cannabis Industry
Today, we're sharing a snapshot of the COVID-19 pandemic's effects across the cannabis realms: the regulated market, the hemp and CBD space, and brands. In short: sales are up, red tape is down (sort of), and product trends reflect a focus on solo seshes.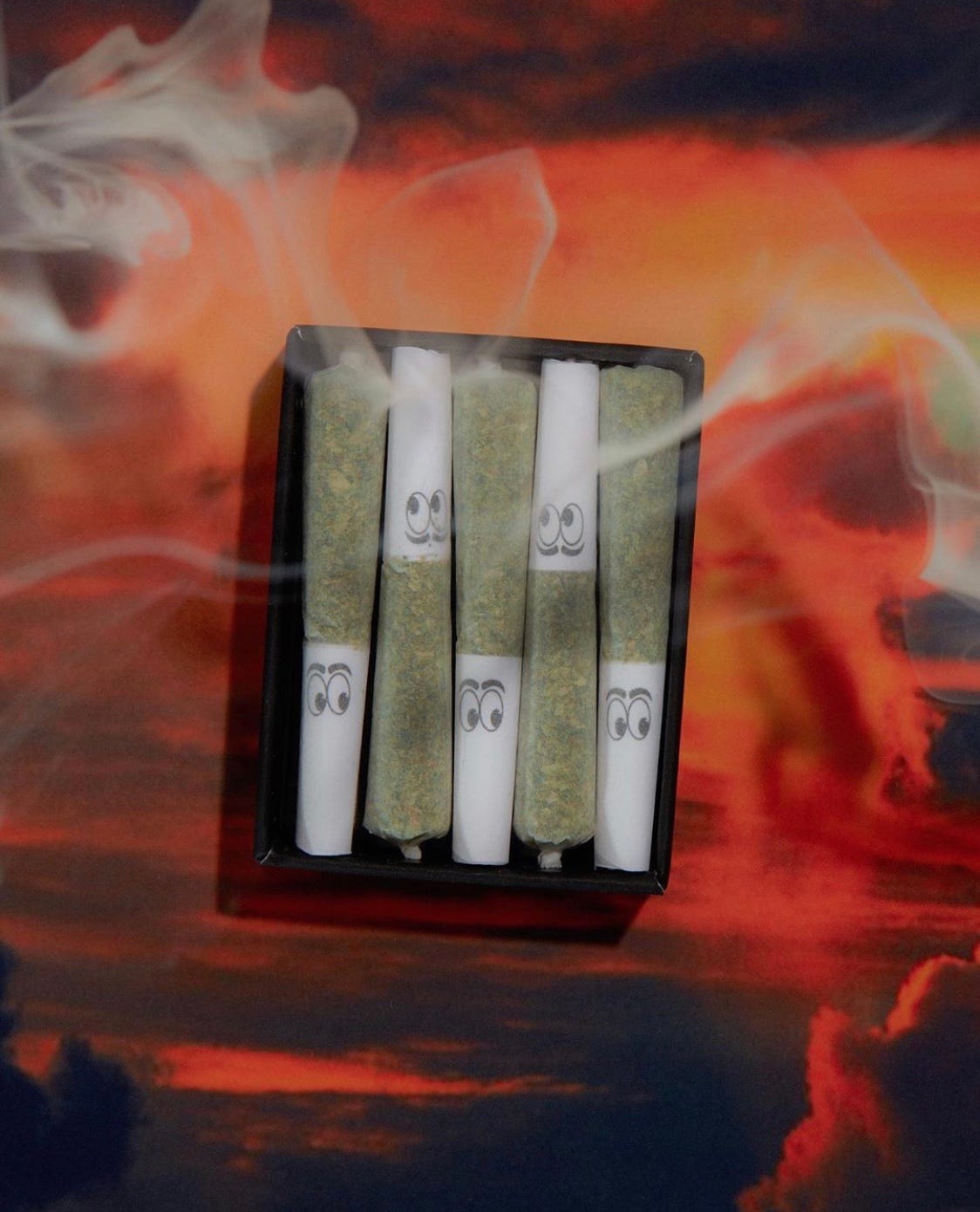 Photo: David Brandon Geeting for Pure Beauty
---
The Regulated THC Market
Safe practices required of COVID-19 are leading to widespread reform of cannabis rules and processes, possibly paving the way for more reasonable legislation as new states come online. When Oregon first legalized cannabis, home delivery services were straight-up illegal. Eventually, advocates and entrepreneurs like Adrian Wayman of Greenbox helped create a "cannabis courier license" for delivery-only retailers. These sorts of afterthought amendments were often weighed down with unrealistic security requirements—for example, the cannabis courier license mandated one delivery per driver per dispatch. The cumbersome rules meant few succeeded, and the handful that did barely got by. Even Eaze gave up trying delivery when they entered Oregon's market in 2019. But COVID-19 has changed the game. Portland officials revised the courier rules, so that any licensed dispensary can now apply to offer home delivery. They also legalized curbside service (exchanging money and product on the sidewalk, in public view)—a notion previously considered too controversial for discussion. In a recent interview with Portland Business Journal, Wayman reported Green Box sales are up 200-300%. 
Similarly, Michigan governor Gretchen Whitmer signed an executive order mid-March granting all stores eligibility for home delivery and ensuring a 24-hour turnaround for new licenses. Colorado, set to begin legal delivery services in 2021, expedited licensing to get medical delivery services up and running in March. Massachusetts is looking to do the same as soon as possible. COVID-19 likely played a role in legalizing drive-through windows at dispensaries in Las Vegas, and we are not mad about it.
So far, no safety issues in stores or during deliveries have arisen since these rules loosened up. It's proving to legislators that cannabis businesses not only can handle running on a longer leash, they might even be able to do more to stimulate local economies. There's potential for these reforms to build some much-needed trust between city officials and the cannabis community.
---
The Hemp and CBD Spaces 
Though online shopping during quarantine has resulted in exponential sales spikes, CBD's grey area challenges remain. Cannabis was categorized as an essential business—CBD was not. So the triple-digit increases in e-comm sales that brands with hemp-derived offerings like Barbari (who we interviewed here for The Broccoli Report) are seeing has something to do with the shutdown of their nonessential stockists. Brick-and-mortar CBD companies pivoting to online stores often face the same advertising restrictions that a full cannabis company deals with, making the transition much more difficult.
Despite sales being up, prices are down. Increased demand in the spring led some cultivators to overzealously increase the volume of hemp crops at the sight of CBD sales booming, creating a bit of a glut in the raw material market. After all, 8.4% of Americans are unemployed right now. Even with these spikes in online sales, the hemp market is not expected to hit initial revenue estimates for 2020. 
---
Brand Trends
Brands are reacting to the evolution of COVID-era lifestyles. Mini joints are having a moment. It's a narrow demographic of folks who can enjoy an entire king-size on their own, and no one likes re-lighting a half-smoked joint. So it's no surprise to see Besito and Miss Grass follow in the footsteps of Pure Beauty and Sundae School's Bullets with their own packs of mini joints launching into California's market. We imagine that things will only keep trending in this direction across the board, i.e., edibles in small, separated doses instead of a single, high-dose product that requires lots of hand contact to portion out.
Now, we just need someone to start making doob tubes sized for minis. 👀 👀
---
One-Hitters: News at a Glance
---
Look out for Friday's Q&A on cannabis banking, taxes, and fiscal fortitude with Erin Rulli, founder of Alice & Fran LLC, a virtual finance and accounting firm specializing in small businesses, including cannabis and cannabis-adjacent clients across the U.S. and Canada. Is it time for your business to get a weed accountant? Find out on Friday.
After October 12, Fridays posts will be for paid subscribers only. Your subscriptions pay for our independent journalism, and we're so thankful for your support! Sign up here anytime and share this letter with someone who will find it useful.
Not a subscriber, but found this email helpful for your business? Leave us a one-time tip right here, just enough for a mini joint.
Until then,
Lauren