Discover more from Sticky Bits by Lauren Yoshiko
News and Analysis for Creative Cannabis Entrepreneurs
Over 6,000 subscribers
Let's collab! Five brands talk product partnerships.
What makes a successful partnership?
The Broccoli Report 
October 9, 2020 
Time to read: 8 minutes, 52 seconds. 1775 words. 
This newsletter is the last free Friday dispatch. Starting next week, only paying subscribers will get Friday's in-depth newsletters (and we've got some killer ones planned—you won't want to miss them).
Your subscriptions support our independent journalism, and you can expect more newsletters featuring candid insights that can help you do weed business better. For those of you who already have paid plans, thanks for bearing with these reminders. Starting next week we'll be able to segment our mailings based on the type of subscription (free VS paid), so things will be even more seamless for you.
Thanks for believing in this project!
---
Let's collab! Five cannabis brands discuss product partnerships with non-weed brands.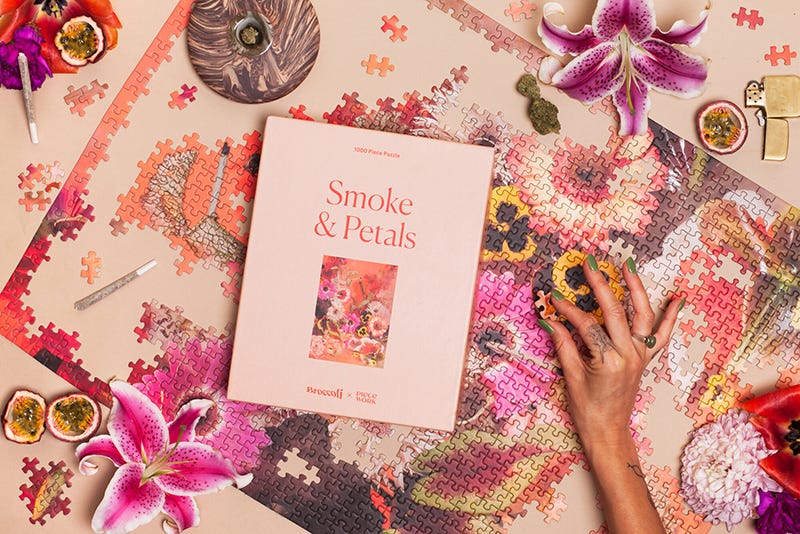 Photo: Broccoli & Piecework Puzzles
A successful collaboration is easier said than done. It's a delicate alignment between different brands with different challenges. For all parties to walk away satisfied with the outcome, it takes a lot more than enthusiasm and good vibes. 
For cannabis and cannabis-adjacent brands facing major limitations in promoting and advertising products, collaborations with non-weed brands can be powerful tools for normalization. Not only do these partnerships expose a new audience to enlightened perspectives on cannabis, they can help legitimize the perception of the cannabis industry overall.
Here, we look at five different collaborations between a weed-ish brand and a non-weed brand to understand how they came about, whether the partnership achieved its goals, and what the brands learned for next time.
---
Brain Dings and Leanne Rule: Lee Dings Artist Label CBD
Nam Nguyen (Brain Dings founder)
I've been a fan of Leanne's work for years. Her animations are OUT OF CONTROL BEAUTIFUL. I had no idea if she was going to be interested in partnering on a project, but I reached out, and a few DMs/emails later, we have Lee Dings!

Lee Dings is series number two of our Artist Label Program, a collaboration with artists where 50% of all proceeds go back into the artists' hands. Our mission is to redistribute the wealth made in the cannabis space back down to the community, and this Artist Label Program helps us spread this thinking and structure with other brands.

Leanne and I brainstormed a few concepts, and from there, Leanne had full control of the creative direction and design. Brain Dings handled all product, fulfillment, and sales. And together, we both co-marketed the product in our own channels.

With this collaboration, we wanted to have fun, to explore, and to be creative! I believe that you are successful if you have these three elements in a project—everything else that happens from there is a bonus. We had a lot of fun collaborating on this, and I'm honored I got a chance to work with Leanne.

We like to take it one day at a time. Build on small wins. Everything will naturally come together. Enjoy the ride.
---
Broccoli and Piecework Puzzles: Smoke & Flowers Puzzle
Anja Charbonneau (Broccoli founder)
Our team is always coming up with fantasy Broccoli product ideas, and puzzles have long been on our list. We weren't in a position to spend resources (time, money) on coming up with a puzzle from scratch, so I cold-emailed Piecework Puzzles in January 2020 after seeing their designs on Instagram. Piecework produces all their puzzle art in-house and hadn't done any collaborations before, but I figured it was worth a shot to ask. We immediately got along, and it didn't take long to align on a production and sales plan, thanks to our mutual love for upfront and clear communication while negotiating. Essentially, we structured the partnership as a licensing deal: Broccoli provided the art (a photo by Carl Ostberg that appeared in Issue 08, which Broccoli paid to license from the photographer for the puzzle) and the right to use our name, and Piecework handled manufacturing, sales, and fulfillment. We agreed on a licensing fee equal to a dollar value per puzzle sold, decided the number of units in the run, and laid out a timeline for the release. Rather than splitting product between the two of us, Piecework was the exclusive retailer, so all we had to do was send people their way to buy the puzzle. 

We launched the puzzle at the start of April when COVID-19 was hitting the U.S., and so many people started staying home. We always figured that 4/20 would be the event that would lead to people discovering the puzzle, but the pandemic created a frenzy in the world of puzzles, and our first run of 1000 units sold out well before 4/20 rolled around. They're back in stock now!

Working with Piecework Puzzles was a bright spot during a scary and stressful spring, and the success of the puzzle was a helpful surprise during an uncertain time for small businesses. We've since renewed our partnership for two more print runs, and they've started working with Carl Ostberg (who shot the smoking flowers series featured on our puzzle) on new puzzle designs, too, which makes me really happy to see.

When a collaboration is good, it's worth taking those relationships even deeper.
---
Pure Beauty and Garrett Leight: GLCO Hampton X Sun
Tracy Anderson (Pure Beauty co-founder)
Garrett Leight and I have known each other for years, and his company was coming up on their 10-year anniversary. They had a few collaborations in the works to celebrate the brand milestone. In March of this year, they released a travel collection with the German luggage maker Rimowa, and so we thought it would be cool to follow that with a Pure Beauty release in April. He was looking to partner with brands that would reflect the type of things they are into, and one of those things is weed.

We had a meeting and went through a checklist of what needed to happen. Garrett Leight selected the type of strain they felt best matched their brand vibe, and, conversely, we explored all the frames and lenses and color treatments and coatings to create our Pure Beauty frame. We handled the design, and GLCO handled marketing and all the tactical stuff. We built a budget around the respective cost of goods and then put rough estimates around what each brand was comfortable contributing financially to make it happen. Our goal with the GLCO project was to cover our costs (and throw a really great party). The profit was intentionally passed along to our retail partner by allowing consignment on an unusually high-priced item relative to what you see on a dispensary menu—in turn, providing a great margin with little risk. 

Generally, what I've learned with all our collabs is to make sure all parties are comfortable from a legal perspective. This is a highly regulated space, and brands outside of cannabis can be intimidated by the mountains of red tape. That needs to be addressed upfront to avoid wasting anyone's time. Be very clear about who is doing what and who is paying for what. It's easy to see the big costs and heavy-lifting parts of a project, but there are always lots of little expenses and items that come up, and you need to make sure everyone is on the same page about time and financial contributions. And if profit is involved, make sure each party is clear about how those profits will be split or used. And never do anything that doesn't feel right. 
---
Sackville & Co. and GZA: GZA Smoking Kit
Lana Van Brunt (Sackville & Co. co-founder)
I was the Head Talent Buyer at VICE Media for five years prior to co-founding Sackville & Co., so I had many long-standing relationships within the music industry, GZA being one of them. I had worked with him several times in the past, and creating a collab together for Sackville was something that we had always talked about doing! So it was a mutual "approach" for this particular project. 

We are incredibly particular about the design of the products we release—design is at the forefront of Sackville & Co.'s brand and the lens we look through for everything we do. Collabs are no different. For this one, we spent time designing and presented a few different variations of our dream pieces to GZA. Since we already have a relationship with GZA, we were immediately aligned on the tone, design, and items to release, so there wasn't a lot of back-and-forth. 

Sackville & Co. handled manufacturing, sales, and distribution, and we collaborated on the marketing efforts, with GZA participating in press interviews and posting the collab across his social media channels.

This effort was uniquely special as it was in support of Last Prisoner Project, a non-profit that Sackville & Co. has a partnership with, so the marketing efforts were all geared toward raising awareness and funds for that organization. 

Anecdotally, this collab taught us that Russia closed down all its incoming international mail due to COVID and that Australia won't allow lighters in!
---
Quill and OLO/Siela Studio: Imeon Perfume
Ian Van Veen Shaughnessy, Quill co-founder
This collaboration was pure serendipity. Jonathan [Sielaff, whose wife Heather Sielaff founded OLO; Siela is a second in-house brand]  and I happened to sit next to each other at a fantasy/renaissance themed wedding. Within minutes of meeting each other, we were dorking out over scents, cannabis, and extractions. By the end of the wedding, we were fully committed to making a weed perfume. 

Our project was very easy to structure. My best creative and business partnerships have always felt very natural, and it really shows in this project. We decided early on that we would donate all profits and that it would be a small, limited-run experiment. That obviously gave us some freedom. We went into it with an open mind and let our roles naturally emerge. I brought cannabis terpenes to OLO/Siela, and we discussed scent concepts. Then we went through iterative rounds of perfume development, collaboratively working on what we liked and didn't (that part was easy because OLO are geniuses). Manufacturing was handled by OLO, and then Broccoli worked on the design and marketing.

The goal was to make an interesting cannabis perfume. That was it. It smelled absolutely beautiful, and by that consideration was enormously successful. We got lucky with a memorable story—"weed perfume"—that was picked up first by local news, then national news, and we even ended up as a joke on The Late Late Show. We also sold it out, raised money for the Oregon Justice Resource Center, had a great party, and got made fun of on national T.V. 

I didn't learn "new lessons" in this collab (though I learned a lot about perfume); rather, this reinforced existing beliefs. A good collaboration is like any good relationship— it should be easy. It should be a natural fit. I strongly believe it's no different than any other human relationship. Sometimes it works, sometimes it doesn't—but don't force it. If it's working, you'll know. 
---
Don't forget to subscribe! 
But if subscriptions aren't your thing, you can leave us a tip by clicking the button below.
Have a good weekend, 
Lauren Yoshiko