Discover more from Sticky Bits by Lauren Yoshiko
News and Analysis for Creative Cannabis Entrepreneurs
Over 6,000 subscribers
Move Over, Monstera
Cannabis is the next trendy house plant.
The Broccoli Report: September 21, 2020. 
Time to read: 4 minutes, 50 seconds. 969 words.
Move Over, Monstera:
Weed's Trending Shift From Illicit to Aesthetic 
Even before COVID shut us all indoors, house plants have become a booming direct-to-consumer market in the past few years. Then, quarantine brought out the nature-starved botanist in all of us, and sales of house plants and seeds skyrocketed. House plants seem to be the new house pet.
The newest addition to home gardens and apartment window sills? Cannabis.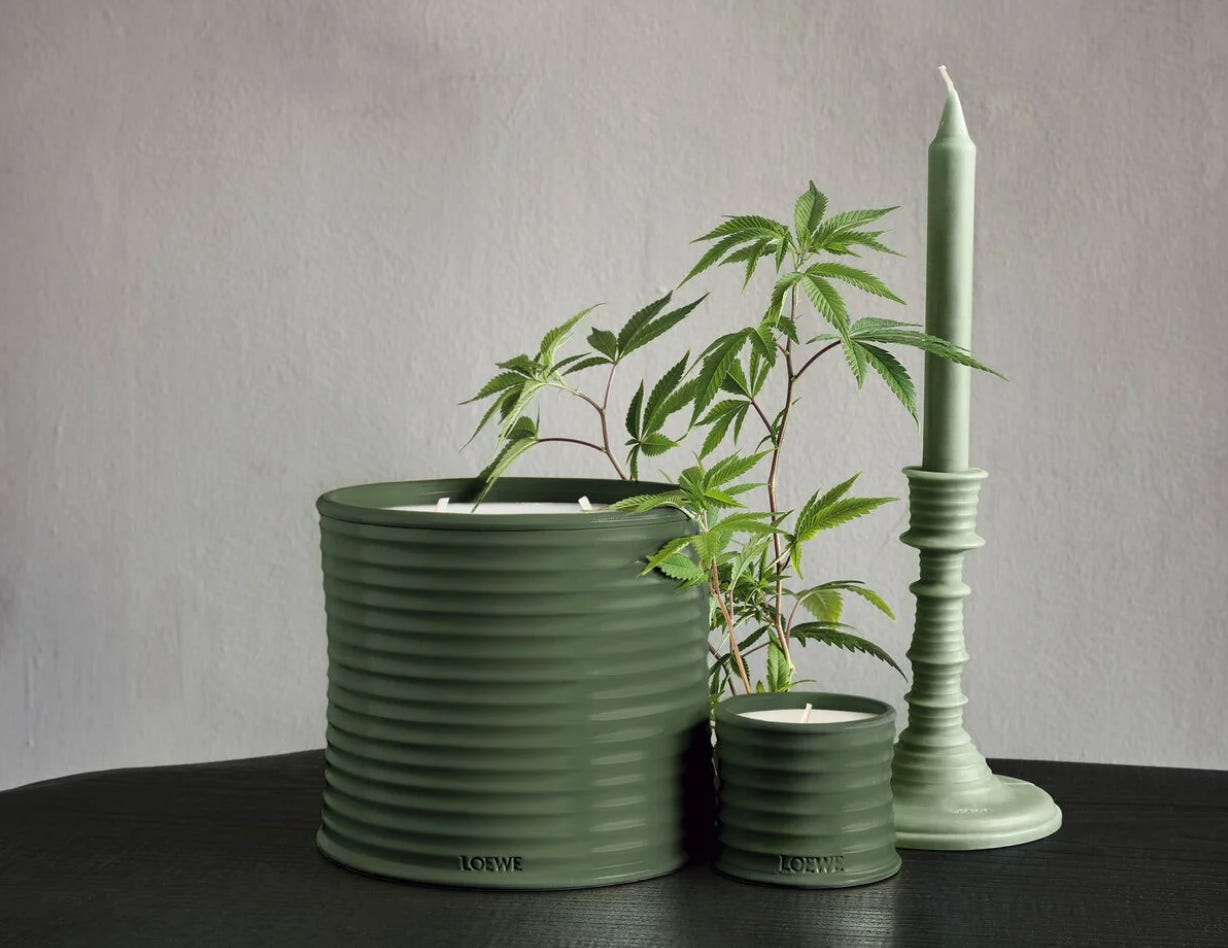 Above: Fashion brand LOEWE's "Scent of Marihuana" collection.
For the first time, mainstream consumers outside of the thick of the cannabis industry are dabbling in growing weed. That's because it no longer means a half-acre outdoor grow or a hydroponic set-up in a spare bedroom. Grow kits like the one from Dynasty Grow cater to the cultivation-curious with everything a first-timer would need—pots, dirt, pretty lights and spritzer bottles—and new companies like OpBox include a sturdy constructed grow box to contain aroma as well. Gardening companies outside the dedicated cannabis space are getting in on the action, too—Gardener's Supply has dedicated sections on its website and catalog for growing "hemp and medicinal herbs." Right now, it's up to consumers to visit legal dispensaries for cannabis plant starts and seeds for THC-producing plants, but with the ability to mail hemp seeds less sketchily, we see a lot of potential for DIY hemp-at-home grow kits to be a certified thing sooner than later.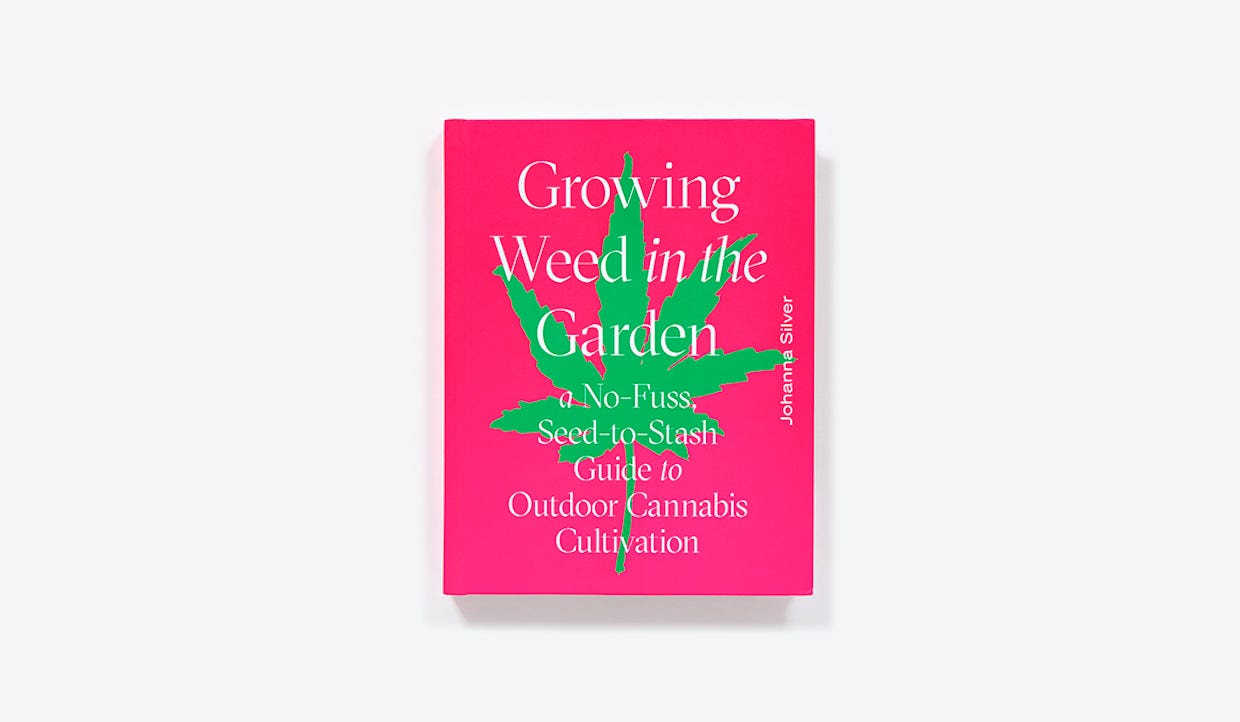 We actually received a pack of hemp seeds alongside our press copy of Growing Weed in the Garden, a new book by Johanna Silver. Luna Volta got extra creative with plantable packaging for their Nova CBD oil, which is embedded with wildflower seeds. (Would've been cool if they were hemp seeds, too! 💚) Clever PR gifts and botanically-inclined packaging are just starting to scratch the surface of the places weed could sprout as part of a brand experience. 
There's a lot of room to grow in the how-to handbook arena too, seeing as accessible information for the casual grower is harder to find than a tome on something like "'biodynamic microbial support in cannabis root health."' So far, Silver's book and Nicole Graf's Grow Your Own (Tin House, 2017) stand alone as appealing guides for newbie hobby growers.
As growing cannabis at home makes the practice much more accessible to a broader range of consumers, the uses of the plant are expanding. Most strikingly, some homegrown weed no longer serves the singular purpose of consumption—some is grown as a purely aesthetic statement. 
Creators like CannaBonsai grow weed as art, carefully grooming petite autoflowering varieties to be bonsai-sized plants, and florists like Jill Mason of Starflower in Portland, Oregon are embracing the crossover between people who love plants and people who love cannabis.
Mason says:
"A few years ago, one of our customers sparked a conversation about growing cannabis. He provided the most gorgeous leaves for us to make 'bud vases' with local blooms and massive pot leaves. We put the idea out on 4/20 that year and we sold out of every bouquet. We did a similar thing with East Fork Cultivars the following year. We still have customers calling in and requesting hemp bouquets and arrangements. Having stuff like smoking accessories and Broccoli in the shop seems to start conversations across the board, from questions about sourcing seeds and growing bud to where we think the best weed shops are in the neighborhood."
It's interesting to see a space emerge where people are interacting with cannabis in a new way, and it's proof we've yet to understand all the ways weed makes us happy. 
One thing we do know—If anyone figures out how to grow pink weed, they'll be rich.
Extra credit: In Broccoli Talk episode 019, Mennlay and I go deep sharing our personal histories with plants, and talk about why people may be connecting with plants right now; listen here or on your favorite podcast app.
---
One-Hitters: 
Stay tuned for Friday's newsletter: a recap of the 3rd Annual Luxury Meets Cannabis Conference, our takeaways on emerging trends in the space, and thoughts on COVID-era virtual conferences. After October 12, Fridays will be for paid subscribers only. Your subscriptions pay for our independent journalism, and we're so thankful for your support! Sign up here anytime and share this letter with someone who will find it useful.
See you then,
Lauren