Discover more from Sticky Bits by Lauren Yoshiko
News and Analysis for Creative Cannabis Entrepreneurs
Over 6,000 subscribers
Wildfires in Harvest Season
The flames are only one part of this fire.
The Broccoli Report: October 5, 2020. 
Time to read: 3 minutes, 45 seconds. 785 words.
Understanding the Ripple Effects of A Supercharged Fire Season on the Cannabis Industry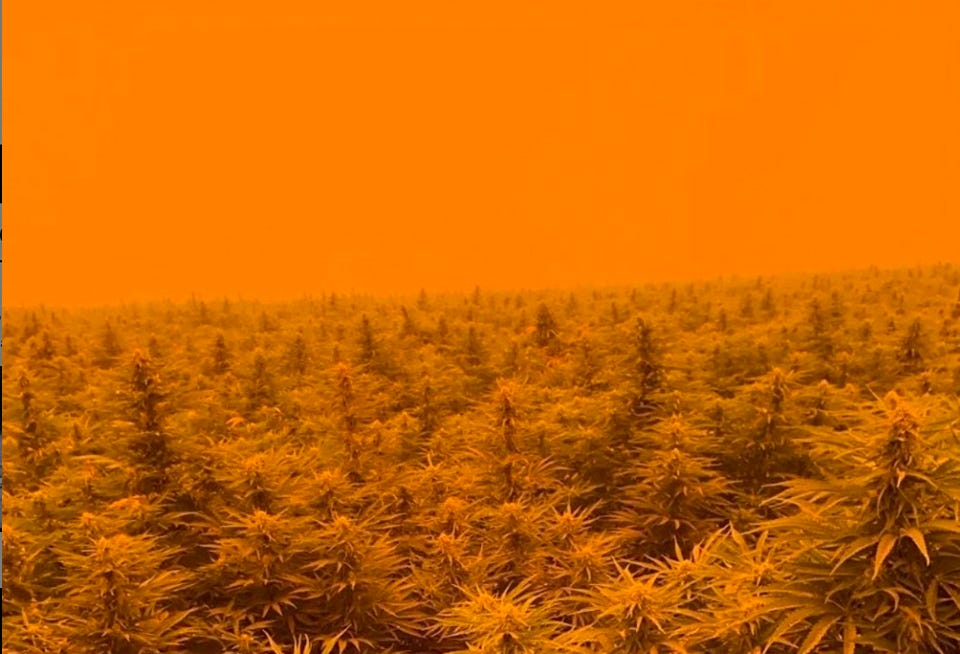 Photo: Hemp crops at Iverson Family Farms in Oregon
While recent rainfall curbed the Northwest's blazes, California's wildfires rage on, destroying farms, polluting outdoor environments, and destabilizing the supply chain at the worst possible time of year.
In Oregon, preliminary data gathered by the state's cannabis regulatory agency shows seven licensed producers lost their whole crop so far, at least 12 reported partial loss, and five adult-use dispensaries have burned down. Those figures only convey a fraction of the economic destruction wrought since September's ignitions. In an interview with Willamette Week, Roganja Peter Butch, co-owner of Oregon cannabis farm, said that while the nearby Obenchain Fire didn't burn his plants, "10% to 20% of the grow was destroyed by ambient heat from the wildfire." Butch also estimates $300,000 in damages to structures used for curing and a melted irrigation system.
As we move into prime harvest season for outdoor grows, farms owners are forced to weigh the risks of harvesting early and foregoing cure processes to move flower away from the fires versus risking their lives to save their livelihoods.
In an interview with the LA Times, Trinity County Sheriff's Department Deputy Nate Trujillo explained that there is only so much that they can do to get growers to follow evacuation orders triggered by the 949,055-acre August Complex Fire. The area is home to hundreds of licensed and unlicensed farms, and as many as 1,000 people remained in Post Mountain and Trinity Pines last week, long after evacuation orders were issued. 
"It's mainly growers, and a lot of them, they don't want to leave because that is their livelihood. There (are) millions of dollars, millions and millions of dollars of marijuana out there. Some of those plants are 16 feet tall, and they are all in the budding stages of growth right now."
For growers and grows that lie outside the wildfires' paths, how the smoke and ash will affect product quality remains an open question.
Vineyards are already detecting smoke-damaged grapes in this year's harvest, and grape-testing labs are backed up with requests from growers hoping to verify quality before they spend the money to process their harvest. Cannabis farmers are in the same boat. Researchers at Oregon State University's Global Hemp Innovation Center are helping determine the safety of this year's yields with a new team dedicated to studying the effect of wildfire smoke on hemp crops.
The whole picture of the effects of these devastating fires on the industry has yet to take shape, and we'll continue our updates as the literal and metaphorical dust settles. One thing we know for now—the survival of small cannabis businesses across the West Coast and beyond will be more dependent than ever on consumers making sure they buy from small, independently-owned producers.
---
One-hitters: Industry news at a glance
Don't miss Friday's roundtable focused on collaborative partnerships between weed and non-weed brands. You'll hear from multiple perspectives about how these collabs come about, what makes them successful, and whether the partners would do it again. 
See you then,
Lauren